The Silent Watchdog: Spring 2015
Posted May 28, 2015 at 1:55am by Carl Martin, edited June 12, 2015 at 11:39pm

---
A work of art is many things: a process, a product, an aesthetic proposition, a system of metaphors, a carrier of meanings. Too often we see the end result and ignore the web of history that can inform and enrich our appreciation of it. There is art in how an artist deploys his tools and her talent, and this aptitude constitutes a significant portion of any work's merit. It is important, particularly in the "reproducible" arts, to bear this in mind and guard against the cheapened experience of an ill-produced counterfeit.

In a textbook we might be content to scan a facsimile of a Dürer print, but in a museum setting we should expect to see paper inked by the copper plate the master's hands touched. And in a movie theater showing classics, in a festival context no less, we should demand film prints--whose photochemical lineage is untainted by digital cuckoldry!

But progress is the triumph of the cheap and the convenient. Humanity rarely makes such demands and rarer still meets them. So it comes as a pleasant surprise that this year, at first blush, film still preponderates at the SF Silent Film Festival. Let us dig deeper.

Thursday, May 28

7pm: We start strong, with a presentation of the silent version of All Quiet on the Western Front. It should more accurately be called the International Version, as it was released with a synchronous musical track, but only minimal dialogue, with intertitles that could be swapped for translated versions overseas. (The track was on separate discs so as not to get spliced out with the titles. At any rate we'll hear the Mont Alto Motion Picture Orchestra on opening night instead.) Comprised of alternate (second-best?) takes--though Maltin speculates that the splendid battle scenes, still stunning as imitated 30 years later by Kubrick, are identical, perhaps alternate angles?--this version purports to feature snappier pacing and is arguably a completely different film. Unlike the sound version, its original negative survives, along with some finegrains, so the photochemical preservation should look fantastic.

Friday, May 29

1pm: The preservation print of the Shanghai production Cave of the Spider Women (whose transliterated Chinese title Pan si dong invites confusion with the other film showing from the Norwegian National Library, Pan) is based on a single surviving print found in the library. My best guess is that this is a straight photochemical copy but I haven't received confirmation of this. [Edit: now I have.] Certainly it is in 35mm, on color stock with light-flashed (Desmet) tinting. It is incomplete, missing the first reel and some chunks along the way. Hopefully some explanatory cards will get us up to speed on the narrative. Interestingly, Chinese and Norwegian intertitles coexist on the print and betray a certain amount of license taken in the translation. English electronic titles are based on the less-authoritative Norwegian. [Correction: a new translation based on both sets of intertitles was read aloud.]

4pm: When the Earth Trembled is a digital restoration from fragments held by MoMA, The EYE Institute, and the BFI, presented in brand-new 35mm. Along for the ride, A Canine Sherlock Holmes proves the intellectual superiority of dogs in a 35mm color-stock copy of an elaborately tinted original print from the Desmet (not the eponym of the tinting process!) collection at EYE Institute.

9:30pm: The Ghost Train is a photochemical copy, on good old untinted black and white stock, of a French distribution print, hence the French titles and Paul McGann on hand to render them intelligible.

Saturday, May 30

Greta Garbo in the flesh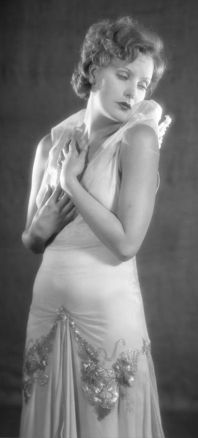 7pm: Says Kevin Brownlow, Flesh and the Devil
was one of the first films David Gill and I presented in the Thames Silents series of silents with live orchestra at the London Film Festival. It didn't need a restoration--there was little that had to be done. Most of it was very well printed by the MGM lab, but one reel had been lost and had been substituted by a very rough dupe. (There have been rumours that an incomplete original negative has turned up, so let us hope this vital section might soon be restored.) There was no tinting.
An epilogue, shot under protest by director Clarence Brown for back-country audiences, is not included in this print.

9:30pm: The Norwegian National Library's restoration of the Knut Hamsun adaptation Pan was sourced from the fragmentary camera negative, a '60's-era dupe thereof, and a nitrate print, also fragmentary. These were cobbled together and tinted digitally, and a 35mm film-out produced.

Sunday, May 31

12:30pm: The Avant-Garde Paris program includes a 35mm print of Man Ray's Emak-Bakia from the Rohauer Collection. Raymond Rohauer, the controversial film collector to whose rascally dealings we owe the survival as well as the mutilation of much of the medium's early history, had some sort of deal with Ray and, later, his widow, and Rohauer's successors hold an old dupe neg and some well-travelled prints. Fastidious viewers should exit the theater after this 16 minute film and wait two weeks to see Ménilmontant in 35mm at the PFA. [Edit: I was not the only fastidious viewer dismayed at the PFA's bait-and-switch here: both shorts in their program turned out to be DCPs. As of this edit, hours afterwards, their online program note still touts 35mm.)

Norrtullsligan: the typing pool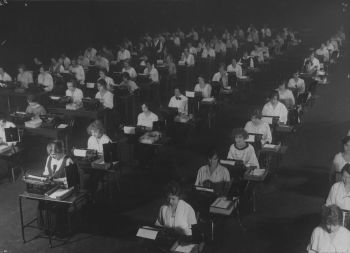 4:30pm: Two internegatives of Norrtullsligan exist, both derived from the same nitrate negative (now lost). One of these internegs, on color stock, missing image on three sides of the frame (from use of a sound aperture in printing), and with re-made intertitles, had spawned prints of this title for years. Upon recent inspection, the other interneg was found to be full-frame, black and white, with original intertitles. Using the old version only as the basis for Desmet-tinting, a new, clearly superior analog print has been produced for our enjoyment!

7pm: Like When the Earth Trembled, Sherlock Holmes is a digitally-restored version, from the recently rediscovered print, presented in a film-out to 35mm.

Monday, June 1

3pm: The Deadlier Sex is a photochemical restoration from a unique tinted nitrate print. My unconfirmed assumption is that we will see a Desmet-tinted print on color stock. A late addition to this program is the 35mm short Ko-ko's Queen, a Dave Fleischer Out of the Inkwell cartoon, which I imagine will be a fully analog print, and a fully excellent film.

5pm: The awkwardly (and after-the-factly) -titled Bert Williams: Lime Kiln Club Field Day was, as I'm sure you've read elsewhere, never completed in its day. MoMA staffers who worked on this project speculate that the release and huge success of Birth of a Nation solidified expectations of stereotypical portrayals of blacks to which this all-black cast production didn't fully adhere. The assemblage of takes we will see is as much a product of our own time as of a century ago, as was the recently-revived Orson Welles film Too Much Johnson. It is, I'm told, "an entirely photochemical film to film process", with the caveat: "so far".

Carmel Myers & costume(!) in Ben-Hur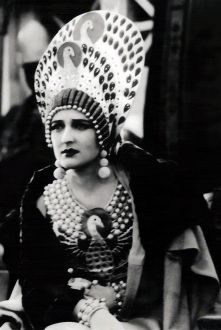 7pm: When Kevin Brownlow tried to show Ben Hur: A Tale of the Christ in 1980, he was offered, to his dismay, the 1931 sound version (of the 1925 film), with color sections "sludge-brown". He remembered, on a visit to Prague in 1968, seeing fragments of the film in nitrate (two-strip) Technicolor, and inquiries with the Czech National Film Archive produced these sequences in full. Aside from usable color, the sound version lacked one shot, which a German collector was able to supply at the eleventh hour, but otherwise matched the original version, confirmed by a cutting continuity, which also guided Desmet-tinting in this fully-analog restoration.

Brownlow, a hero of this blog, will take the stage before the film with Serge Bromberg, a villain. Bromberg has been a festival darling the last several years, with his digitized programs from the Lobster Films horde. I hear raves about how engaging his presentations are, but I have never seen the man or his show. I wonder what will happen on this night.

Thanks to Tina Anckarman, Kevin Brownlow, Rob Byrne, Briony Dixon, Bent Kvalvik, Lucy Laird, Tim Lanza, Mike Mashon, Dave Shepard, Mark Toscano, and Peter Williamson for helping me get the skinny on these prints.