The Silent Watchdog: Spring 2016
Posted June 2, 2016 at 6:22am by Carl Martin, edited June 7, 2016 at 1:10am

---
Tonight begins the long weekend that is the San Francisco Silent Film Festival, and I know you've been waiting anxiously for a report on the prints to show!

This year features an unusual number of Rob Byrne restorations. Rob is a friendly fellow who, unfortunately, does his work digitally, but nonetheless has the good sense to put out a negative and strike film prints at the end of the process; DCPs of silents are often particularly unwatchable due to framerate conversion artifacts (they look herky-jerky).

I spoke with Seth Mitter, one of his assistants on Behind the Door, in greater depth about color, intertitles, and other issues relating to that project (and that typify silent film restoration projects in general). Two incomplete nitrate elements survived into living memory: a negative at the Library of Congress and a Russian (Soviet) release print. Both were duped onto safety stock some time back before succumbing to nitrate deterioration and disposal, and these safety copies are the basis of the restoration.

The six (of seven) surviving U.S. reels can be considered a definitive representation of the domestic release, less so the Russian version, which was not only struck from an export negative consisting of alternate takes and angles, but further trimmed down, re-contextualized, and liberally translated to serve local political ends. Because a list of original English intertitles survives, we needn't fear that the restored version will be ideologically unsound, but around two-thirds of the way in we will be seeing these alternate scenes.

Because the film was tinted and toned on release, each reel of the U.S. negative had been assembled out of story order, with scenes grouped according to intended coloration. after a print was struck, it would be disassembled, dyed, then cut back together in correct narrative sequence. Tinting instructions were written onto slugs between the sections, which, once decoded (A for amber, FP for flesh pink(!), etc.), allowed the restoration team to assign the correct colors to each shot.

Dye-bath tinting is very rarely attempted anymore, these days most often simulated by the Desmet method, which you may read about by searching this blog. Certain color combinations simply don't play nice in this process, however, and Behind the Door's instructions called for some tinting dissolves that necessitated, in addition to black and white negative A- and B-rolls, a color C-roll for certain shots. That adds up to six passes through a printer to produce one finished print!

This ancient curio spotted in a Bangalore antique shop allows 3 people to watch a film simultaneously! Don't worry, the Castro uses Century JJ's.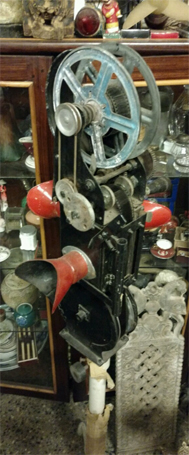 Next up, two René Clair films from 1928, Un chapeau de paille d'Italie (The Italian Straw Hat) and Les deux timides (Two Timid Souls). The Cinémathèque française holds original camera negatives of both titles. They were scanned and sanitized digitally, then put out to new negatives and printed, black and white for timides, Desmet color for chapeau.

Mothers of Men, the festival's "local interest" film, produced in Santa Cruz, was similarly digitally worked over from a tinted nitrate print at BFI, then a Desmet print produced from the new negative.

The short Whats the World Coming To (showing in the Girls Will Be Boys program) survives at NYU in 16mm. This was scanned and put out to 35mm negative and black and white print.

That's it for Rob. The remainder of what's showing on film in the festival are confirmed or presumed analog preservations/restorations.

Also in Girls Will Be Boys, Ich möchte kein Mann sein! (I Don't Want to Be a Man) was the very first film shown by SFSFF, back in the mid-nineties as part of Frameline. As far as I know, the same print will play again this year.

Beggars of Life is confirmed as the same print that played back in 2007. I will miss it again this year but I can think of no reason why you should.

Oscar Micheaux's Within Our Gates is a photochemical preservation by Library of Congress of a nitrate print from Filmoteca Española, whose Spanish intertitles were translated back to inglés and inserted into the new print.

Recent festivals have made a point of showing a silent Ozu, and why not? That Night's Wife is presumed to have been struck, like the others, for the master's centenary, from elements of unknown provenance. But without digital interference, at any rate.

Swedish films have also made a regular appearance at the festival, and this year we have Den starkaste (The Strongest), a reputed masterpiece whose ice-floe action is said to surpass that of Griffith's Way Down East. What we will see derives mostly from a nitrate positive optically (photochemically) reduced in 1982 to Academy ratio (more or less preserving the entirety of the image but using less film real estate). If there was any tinting or toning in that print any knowledge of it was lost when it was destroyed so a black and white print will screen noon Saturday. Sharp-eyed viewers will notice that portions of one reel have inferior image quality--a safety print further removed from the O-neg was used to fill in some missing bits. In fact, 100 or so meters still are missing, compared with records of the film's original length, though perceived plot incongruities may be due more to a castmember falling ill than to missing meterage. And you may rest assured that the original intertitles survive intact.

The version of Nanook of the North to screen dates back to 1975, when David Shepard and The Flaherty produced "the most complete and authoritative print", based, I think, mostly on a nitrate print struck for Robert Flaherty himself in 1937 from the by then quite compromised original negative. I hope to update soon with more details from Shepard, but at any rate there certainly was no digital work done.

Well, I guess I'll see you there!

Thanks to Rob Byrne, Lucy Laird, Mike Mashon, Seth Mitter, and Jon Wengström for helping to enlighten this benighted fool, and to my Bangalore correspondent David Farris for the picture.