SFIFF (SPFFFlim or something) 2017, etc.
Posted April 22, 2017 at 10:11am by Carl Martin, edited April 23, 2017 at 9:31pm

---
Last year I was too much in the booth and didn't actually get to see enough to write about, but this year I finally managed to see every film in the festival, few as they were.

First up, Joan Chen's Xiu Xiu: The Sent-down Girl. I saw it way back when but it didn't stick with me. Now it will. Chen's chief obstacles were the Chinese government and inexperience--it was her first directorial effort. She dodged censorship by shooting far out of sight of the authorities, and under their noses, at night, using her connections in a Shanghai studio.

Curiously, the initial narrative voice is that of Xiu Xiu's schoolboy paramour, whose subjectivity disappears almost entirely once she is "sent down" to the remote steppes to learn horsemanship from a nomad. Thereafter, the male sex is portrayed about as flatteringly as in Thelma and Louise, the one benign masculine figure perhaps only so because of physical impairment. Xiu Xiu is no angel: she is a petulant teen, unwilling to devote herself to her new curriculum. But her loss of innocence doesn't bring wisdom or redemption, rather downfall. We are reminded of Mouchette's rolling in the grass, but Chen casts this Bressonian image not as a terminal gesture but a giddy moment looked back on wistfully.

Lu Lu as Xiu Xiu
The studio-shot scenes, interiors of the nomad's tent, have an insular, stagey feel that befits the isolation in which their relationship develops.
In a Q&A session, Chen stressed her reliance on intuition during shooting, and the result validates her instincts. She (and cinematographer Yue Lü) shot with intimacy, filling her frame with human drama. Scenes that might have suggested the set-piece treatment--the search for a missing teen, a storm--are presented refreshingly perfunctorily.
Chen mentioned that, thanks to the impossibility of viewing dailies, scratches incurred in-camera due to environmental dust went unnoticed, and had to be digitally corrected. I must admit I didn't notice this while viewing, though plenty of additional dust had gotten onto the print over time.
This was my first visit to the revamped SFMOMA screening room, and I was happy with the experience.
Only one piece in the experimental shorts program Who Cares. Who Sees [sic] was shown on film: Brigid McCaffrey's 35mm Bad mama, who cares. The subject of this portrait film--a geologist, per the program notes--lives in the desert and tinkers with crafts. At times, portions of her face are masked and rephotographed, somewhat akin to Kren's 31/75 Asyl, to cubist effect. This sort of fracturing and doubling also permeates the video You Got Eyes, though the effect is less striking. The first piece, Untitled, 1925 Part Three, while finished on video, did have some nice 16mm-originated imagery. I left the Roxie early to give myself plenty of time to get to...
Parallel Spaces, a program of Jerry Hiler films accompanied by the drony stylings of Will Oldham and friends. A few years back Hiler's film Words of Mercury played in the Experimental shorts program, but I saw it at New People where, I found out too late to change my plans, a video copy was screened, instead of at the PFA, which could accomodate 18fps projection. This time around, a 16mm Eiki in the Castro balcony did the trick.
Hiler's films are silent and meant to be experienced that way--as his partner Nathaniel Dorsky (who wrote Revenge of the Cheerleaders, playing Monday at the Roxie, a film uncharacteristic of the rest of his work) says, adding sound will make the bad parts better but make the good parts incoherent (or something to that effect)--so I went in trepidatiously, but I felt the music, for the most part, excepting some hollering towards the end, allowed me to watch the films. The band sat on stage but did not obscure the films as they were projected high (and unmasked) on the screen, and with little light bleed from the players. It was, I think, Oldham's intent to respect the films, and I respect him for that.
Words of Mercury, the evening's most austere film, is built on in-camera superimposition, like Paul Clipson's work, for another local example. But where Clipson will repeatedly shoot and rewind in short bursts of similar imagery, Hiler's superimpositions are heterogeneous, often pitting the artificial world against nature, the flow of a meadow interrupted by a wall or fence.
In Bagatelle II we span time, with footage going back, I'm guessing, to the 1980's. There is a diaristic quality. Among the people we see is Dorsky, picnicking with a woman unknown to me. Dorsky's film portrait Hours for Jerome shows Jerry dipping the end of a film strip little by little into a jar of opaque fluid. In this film, we see fades-to-black created by this technique, as well as by stopping down the camera's aperture during filming.
Two marginal figures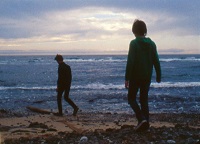 The recent Marginalia starts with bursts of footage of a truss bridge, intercut and rhymed with other scenes (from nature? I forget). He also manipulates the film material directly, scratching Len Lye-style into the emulsion.

Guy Maddin's failure to appear at the festival this year necessitated workarounds at the shows bearing his name. Saturday's show, at which he was to present a selection of 16mm films from Canyon Cinema, instead featured Canyon director Antonella Bonfanti interviewing a mysterious stand-in (NFPF honcho Jeff Lambert, her husband) channeling Maddin's spirit. This was more entertaining than the first film, Gary Goldberg's Mesmer, which consists of a single static shot, four sound cues (two gunshots and two drumming interludes), a funereally attired fellow who keeps doing strange things with his hands, and a stripping ghost (Taylor Mead). But hey, George Kuchar found something to like in this film, so who am I to argue?

Abigail Child's Perils continued the performative theme of the night's selections with a little more panache. Tableaux and short bursts of action--only the money shots!--of the sort one might find in potboiler serials are strung together, often including the getting-into-position of the participants and the apparatus of the film shoot. A whimsical deconstruction!

What's on your mind?
(faded image)
The meat of the program was Robert Nelson's and William T. Wiley's The Great Blondino, whose fractured narrative can be simplistically summarized as a tightrope walker's (Wiley's brother Chuck) quest for his rope. His wanderings defy logic but take on Freudian, even mythopoeic overtones. A ramshackle barrow he wheels over comically rough terrain seems a Sisyphean rock. When he sleeps the dream-space above his billet is overlaid with images of naked people cavorting as if in some strange, innocent orgy (accompanied by Wiley and friends droning--calling themselves Moving Van Walters and His Truck--an audiovisual mélange that put me in mind of Ron Rice's excellent Chumlum). The overall effect is very dreamlike, and frequently employs visual and optical trickery. (Even streaking from an apparently misthreaded camera contributes to the visual texture.)

Daina Kruminš's cheeky The Divine Miracle gives us, just before Easter, the death and resurrection (Nosferatu-like!) of Christ, achieved through meticulous optical printing of the Christ-figure and flitting angels onto colorful but static backdrops, suggesting stained-glass windows come to life.

Water all around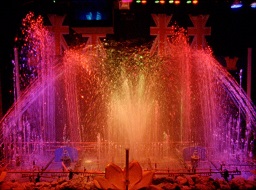 Lastly, I caught the one new 16mm short in the regular omnibus programs, The Water Show Extravaganza by Sophie Michael. I hadn't heard of Michael before, but she's a dedicated 16mm filmmaker and I like what I see. She has filmed an attraction at Watermouth Castle, an automated "Mighty Mortier" organ playing popular songs to a choreographed show of fountains, bathed in multicolored light. There are no people in the film by which to gauge the size of things, and the whole of it could as well be an exquisite miniature. In-camera edits and superimpositions add a performative element that contrasts with the automated nature of the subject. As well, "accidental" effects of the medium, like light leaks and development anomalies intrude into the picture.

In other news:

Saturday's annual visit to the Castro by the Italian Cultural Institute features a day of Dino Risi movies, the first and last of them in 35mm. Considering just these two, Risi's greatest contribution was arguably to stand back and let Vittorio Gassman do his thing, often in very long takes.

I mostri, in particular, shows off Gassman's and Ugo Tognazzi's chameleonic versatility in some twenty satirical sketches (sources vary on the number so maybe there were abridged releases but my feeling is there must have been twenty at least). Il mattatore, the earlier show, presents one cohesive narrative, but Gassman's role as a con artist again allows him to try on a multitude of personae.

It's been a while since the Green Festival showed anything on film [Correction: they never have before!], but this Sunday Judy Irving's Dark Circle is at the Roxie. I was very touched by her The Wild Parrots of Telegraph Hill and expect this previous effort, while formally quite a different type of documentary, to be worthwhile as well.

Also coming soon, the SF Silent Fest. Check the Bay Area Film Calendar for what's on film. More on that later.

And remember, even though times are lean, the Bay Area still offers something worthy to see on film almost every day, so don't just be a festival snob!