The Silent Watchdog: Spring 2017
Posted June 2, 2017 at 6:34am by Carl Martin, edited June 3, 2017 at 2:18am

---
Though opening night of the festival has come and gone, since no 35mm has yet shown, we may legitimately fantasize that this post has met its deadline.

We dip our toes in lightly, this afternoon featuring only one film, the incomplete Get Your Man. By 1970, two of its six reels of original camera negative had decomposed beyond hope of repair. From the remaining four, which ten years later were themselves discarded, the Library of Congress struck fine grains. To cover for the missing reels, a reconstruction was recently undertaken. Fortunately, complete intertitles survive at AMPAS, and these reputedly do a game job of keeping the narrative flowing. Pictorially, AMPAS was able to supply 50 production stills (a strategy used also in the reconstruction of the Garland/Mason A Star Is Born, where soundtrack existed without picture--which, when I saw it years ago, I assumed to be a peculiar artistic choice on George Cukor's part), while MOMA held a few brief sequences that some civilian collector had presumably culled from a release print. The entirety of this material, even the four complete reels, was scanned and then put back to film.

Also in this program is a lone surviving reel [correction: bits of reels 2, 3, and 6!] from Now We're in the Air!, found by SFSFF's Rob Byrne at the Czech National Film Archive. It, too, has been scanned and put back to film. But in a welcome nod to authenticity, its tinting has been achieved by the actual immersion in dye of black-and-white stock at a Prague lab.

On Saturday the celluloid gets rolling in earnest. First off, Mocny człowiek (A Strong Man), a Polish film of which a nitrate print exists in Belgium's Royal Film Archive. We'll be watching an acetate dupe of this (the Castro booth isn't nitrate-safe!), which my correspondent at Filmoteka Narodowa bemoans as "high contrast and generally aesthetically compromised" by damage printed-in, which is to say that, as an analog product, it honestly shows its scars.

Textbook tinting and toning!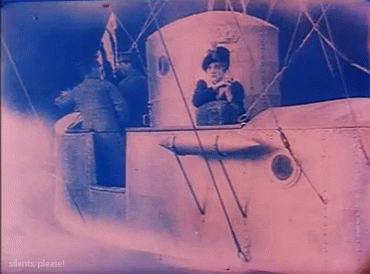 The stills I see of Filibus suggest a well thought-out tinting-and-toning scheme which will come to us, ahistorically, in a print on color stock, from a color internegative from EYE Filmmuseum. However, this internegative was wetgate printed from an original 1919 Dutch nitrate projection print and should well represent the spirit of the original. (Though on the textual front, Dutch intertitles have been replaced with new English ones.)

Next up, this year's war horse, Eisenstein's Броненосец Потёмкин (Battleship Potemkin), which is worth revisiting! Certainly it has been revisited many times by various censors and editors. After its initial run in the USSR, the camera negative made its way to Germany and was immediately revised into the form in which it made its debut on the world stage, aided by the introduction of Edmund Meisel's score. This version of the negative produced all worldwide distibution prints through at least 1931, before heading back to Moscow. There, for the tenth anniversary release, an epigraph by Trotsky was replaced by a Lenin quote. Then in 1949, a sound version reduced, replaced, and rearranged the titles once again (and inserted a different Lenin quote). Another Shostakovich-scored sound version appeared in 1976, reverting to the first Leninism and changing some of the intertitles back.

The film will never quite be brought into conformity with its premiere version, but several sources allow an approximation: A Soviet print acquired by the London Film Society in 1929 has the Trotsky quote, in English. A print with no quote but original Russian intertitles was acquired by MOMA in the late '30's. And a German-era print made its way to England for distribution, where it was banned and thus remained in good shape.

Long story short, this last print is the major image-source for the shots, while the others help establish the structure and, with other sources, the intertitles of the film. And it's all photochemical!

On to Sunday!

Do the puppet!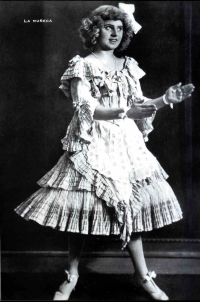 Filmarchiv Austria holds a nitrate exhibition print of Lubitsch's Die Puppe (The Doll), struck from the camera negative some six or seven years after its initial release (based on the edgecode on the AFGA stock). By the time of its printing, the negative had sustained some scratching, evident in the print, which otherwise has excellent sharpness and greyscale. While other prints exist in various archives, it turns out they all derive from a dupe negative at Gosfilmofond, itself copied from the Austrian print, and thus have poorer image quality while offering no additional footage. In 2000 Haghefilm struck another dupe negative from the nitrate, and from that, the print that we'll see at the Castro.

Next up, another Rob Byrne restoration. Silence is an American film that survived at Cinémathèque Française with French titles. Research has turned up no continuity (yet...) so all the intertitle cards have been re-translated back into English. The restoration work itself was carried out in the digital domain.

The Swedish Film Institute insists on maintaining works in its collection in their original format so it's disappointing that it didn't supply a 35mm print of the excellent Terje Vigen (A Man There Was), as it did for the PFA in 2013. At least the short in this program, Fifty Million Years Ago, will be on film. Originally a German animated film, it was imported, cut down, and re-titled for American audiences. EYE Filmmuseum holds a unique tinted nitrate print of this version, which has been scanned and digitally worked over, its single-frame intertitles repeated (or recreated where illegible) to a sensible length, then output to a black-and-white negative, from which was struck the Desmet-color print we'll see.

The 35mm print of the Ukrainian Dva Dni (Two Days) indeed arrived a mere two days before the festival (adding to the shipping drama of 5 reels worth of A Strong Man falling out of their box and rolling around FedEx's Memphis hub for two weeks). I suspect it's a straight photochemical preservation print but haven't heard the word from Dovzhenko Centre yet.

As for the closing epic, in 1938 a negative of The Three Musketeers was deposited at MOMA by star Douglas Fairbanks's son Doug Jr., from which a preservation negative was made in 1963. This latter element was recently 4k-scanned and spruced up on a computer, then lasered back to black-and-white negative. From this a color-stock print was made, with tints simulated by the Desmet method.

Shout-outs to Rob Byrne, Josef Lindner, Mike Mashon, Mark-Paul Meyer, Elżbieta Wysocka, and Nikolaus Wostry for sharing with me the details of their efforts.
---
Comments:
Posted December 7, 2020 at 11:51pm by angelaangie:
It, too, has been scanned and put back to film. But in a welcome nod to authenticity, its tinting has been achieved by the actual immersion in dye of black-and-white stock at a Prague lab. for any query or support go here