What are we losing?
Posted September 10, 2020 at 4:16pm by Carl Martin, edited September 11, 2020 at 11:11pm

---
People are dying, though not in such numbers as in previous global catastrophes--for better or worse, they are a renewable resource. The great abstraction we call the economy has charted precipitous dips and stabs at recovery, but our bonds of dependency remain intact. Despite the accelerated trauma of this moment, humanity and its economic relations will endure.

I fear most for the everyday routines and aesthetic experiences that make life meaningful and rewarding. For some time they have been trending towards the digital, the virtual, and they may never swing back. The march of progress favors cheapness and convenience over quality and investment.

Since the start of lockdown I've been making ends meet by increasing my participation in the "gig economy", delivering restaurant food to those unwilling or unable to fetch it themselves. Some of these restaurants have resumed offering table service of a sort, curbside only--where the curb will allow it. Many others, some of them longstanding and outstanding local food-cultural institutions, have closed permanently. New restaurants may open in the same spaces, but there will never be another Farallon, say.

An attempt to illustrate a culinary experience with an image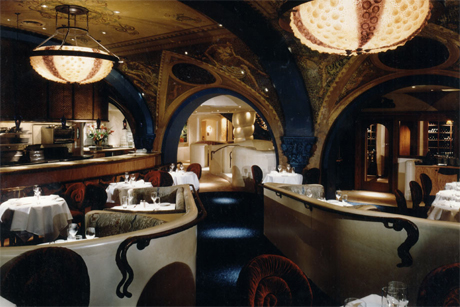 Gyms, salons, movie theaters, etc., are following this pattern as well. Like restaurants (and bars), theaters occupy an essential and irreplaceable local-cultural niche. Unlike restaurants, movie theaters that close and reopen under a new regime typically keep much of their branding, their names often rendered in neon on their classic marquees. But seldom does the new regime carry the cultural weight of its predecessor.
When the culture-obliterating dust has settled, which of our cherished (SF Bay Area) film institutions will remain, in more than just name?
I'm reasonably confident the Roxie (disclosure: I work there) will resume operations in a similar vein to its recent history, i.e. mostly new art-housy programming with occasional repertory, sometimes in 35mm.
The PFA, being university-affiliated, will I'm sure reopen with its thematic series-based programming, lately too light on the 35mm, but still good to have around!
Similarly, I expect SFMOMA's film programming to resume much as it was.
Despite its name, the Stanford is not university-affiliated, but beholden to the deep pockets and the whims of David Packard, and I do hope they conspire to put the theater back on its course when the time is right. We can't take it for granted; consider Seattle's Cinerama, whose future is uncertain despite Paul Allen's bequest.
As for the Castro (another disclosure: I worked there), it appears to be following a trajectory similar to the Egyptian in L.A. With its management structure disbanded and a big question mark surrounding the return of its staff, the theater's reopening may well be under some corporate aegis. I remain hopeful that repertory programming will be allowed to fill the slots between rentals and events. We'll see. In the meantime, the laid-off staff has a gofundme campaign to raise a typical paycheck for those who need it, while passing funds to other organizations chosen by those who don't. FOFF is one of the organizations that stands to benefit (final disclosure).
---
Comments:
Posted December 7, 2020 at 7:45pm:
Wonderful post really nice i enjoyed this for any query or support go to Epson Contact