SFIFF 2022: Been a While
Posted May 14, 2022 at 9:05pm by Carl Martin

---
Looking at past posts (none from last year!), I see it's been a few since "the" festival held "physical" screenings, but it's now back "in theaters", and this edition included two actual films: a feature and a short.

First off, Ang Lee's Crouching Tiger, Hidden Dragon, which was a big deal back in 2000. It got a lot of noms, the most (from the Academy), to that date, for a foreign-language film. For much of the cast and crew it was indeed a foreign-language film, who came from all corners of the Chinese diaspora but were, mostly, not native speakers of the Mandarin dialect Lee wanted.

Lee was born in Taiwan but studied film in the U.S. (with Spike Lee!) and his first films deal with tensions arising from this mix of cultures. His body of work is quite diverse, and he seems to relish exploring new genres, locales, eras, and themes: he embraces the foreign. With Crouching Tiger he returned to familiar territory, though perhaps now as a foreigner.

There is an odd foreign-ness to the effort. The film is overripe with conventional elements of wuxia, a genre characterized more by populism than purity anyways. Michelle Yeoh, Chow Yun-Fat, and the rest of the cast have legitimate action credentials. The score pounds with percussive 90's action-movie bombast... and Yo-Yo Ma strings. Is it too much, too Hollywood?

Fat and Yeoh in the trees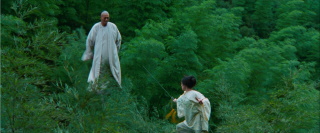 Perhaps it is not the strings but the wires. Actors were hoisted on wires for supernatural fighting effects, which were later digitally scrubbed out. The digital trickery doesn't end there, as some shots show clear evidence of compositing. The movie tries very hard to look good, breathtaking even, but its beauty and veracity are undermined in these instances.

Halfway through, a flashback--a romantic desert interlude--provides a break from the action and intrigue, a recentering that re-energizes the rest of the film and sets up what is ultimately a rather anticlimactic final moment.

Next, the short Norma, black-and-white and dialogue-free. In it, a woman at home gets spooked and runs around looking for an intruder. The spooky mood is enhanced by diegetic lighting effects (i.e. the woman turns lights on and off) and furtive camerawork. I spoke with director Max Weinman, who shot in 35mm, edited digitally, then had the result put back onto 35mm a few days before the screening. He claimed not to be dexterous enough to edit on film, but the editing itself does have a no-frills, done-by-hand quality to it. A nice effort.

And that's that!
---
Comments:
Posted May 29, 2022 at 5:56am by Lawrence Chadbourne (unregistered):
Good to have you back!