Silent Fidelity
Posted July 12, 2010 at 5:54am by Carl Martin, edited July 14, 2010 at 2:02pm

---
Thursday commences the San Francisco Silent Film Festival, and so let us take a look at the provenance of this year's prints. For a less materialist overview of the festivities, I recommend Brian "Objet" Darr's and Michael Hawley's rundowns.

All commercial silent-era films were of course shot and exhibited in 35mm, and for those who wish genuinely to submit to their art, this remains the proper medium by which so to do. But there are complications. The fidelity of a copy to the camera original decreases the more generations separate them, particularly when copies are made in careless haste, and without the benefit of sophisticated cleaning and wet gate printing techniques, as were many inferior safety-stock dupes at the height of mid-century nitrate-stock paranoia.

Careful labwork can sometimes bring out latent characteristics of the image, ameliorating contrast problems, for example. But in general, generational losses are permanent, and digital solutions to these issues rely on fakery, not actual recovery. That said, let us proceed.

(Both free Amazing Tales from the Archives programs feature 35mm material, but I'll leave it to their presenters to discuss restoration details, since that's the whole point. An insurmountable language barrier has prevented my researching A Spray of Plum Blossoms.)

July 15

The Iron Horse (7:00pm)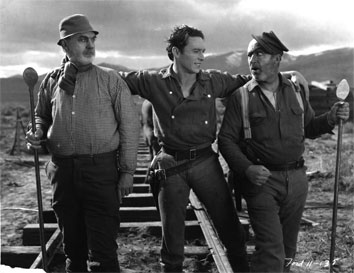 This print, from the collection of organist Dennis James, was manufactured for Paul Killiam, who showed the film on his Silent Years TV program in the early '70's. This may be that same print, and at any rate predates the digital age. It's claimed to be the only print of the definitive American version of the film (opening with a tribute to the 16th president), running 150 minutes--an average of about 18fps if one can trust imdb's reckoning of its footage. In comparison, the print from Kevin Brownlow's Photoplay Productions runs 132 minutes.

July 16

Rotaie (6:00pm)
This is a vintage (well, safety-era) print from Cineteca Milano which has reportedly been well-tended over the years.

Metropolis (8:15pm)
For many, myself included, the crucial missing scenes from Fritz Lang's dystopian masterpiece have been one of cinema's great holy grails. Excitement at news of their 2008 discovery--in an Argentine 16mm negative (supplemented by a uniquely-cut 35mm print from New Zealand)--was tempered by the fear it might have come too late--even the 2001 restoration of the film had been accomplished digitally (to be fair, it looked decent) and the same treatment would now be afforded this additional footage, reportedly in rather poor physical shape. What is shocking is the unavailability of this new version on film at all. While a single 35mm print has been made--it screened earlier this year in Hong Kong--hardly anyone seems interested in showing it. Having crossed this line for the first time last year with Bardelys the Magnificent, SFSFF is showing Metropolis digitally. We have here the worst possible scenario from a purist preservationist perspective: a poorly duped 16mm copy of footage from a heavily scratched and oil-mottled print (since destroyed), worked over digitally and projected digitally to boot. Reportedly, Gottfried Huppertz's original score fits very nicely with the complete version of the film. Instead, The Alloy Orchestra will present an expanded version of their score (which I first heard some 15 years ago with the colorized Giorgio Moroder version of the film).

July 17

The Big Business of Short, Funny Films (10:00am)
This shorts program comprises three films. Big Business is preserved from an extant nitrate negative, whose image quality I have no reason to suspect, though I wouldn't be surprised if it showed some imprinted wear. The Cook (one of the funniest slapstick films ever!) and Pass the Gravy are photochemical preservations as well, though I don't know from what source material.

The Flying Ace (2:00pm)
Like Big Business, this print hails from the Library of Congress, and is preserved from the nitrate camera negative. This is the very best that can be hoped for, image-quality-wise. And though the negative may well have some scratches (likely not so bad--it can't have made too many passes through a printer given its specialized audience), wet-gate printing of this element will hopefully have rendered them harmless.

The Strong Man (4:00pm)
This print from Photoplay Productions is also "directly from the original negative" and I think we can trust Mr. Brownlow's people to have done right by it. Incidentally, those who attended the PFA's showing in its Capra series earlier this year saw a different print from the Douris Corporation.

Diary of a Lost Girl (6:30pm)
Cineteca del Comune di Bologna led this 1997 restoration, based on nitrate prints from France (from which German intertitles were reconstructed), Belgium, and Uruguay, in collaboration with several other archives. The European prints, from different negatives, reflect censor cuts made by various authorities. The South American print, itself cobbled from various sources, includes most of the scenes excised from the others. A dupe (i.e. photochemical) negative was made incorporating the best elements of the three prints, and positive black-and-white prints made from this.

Häxan: Witchcraft Through the Ages (9:30pm)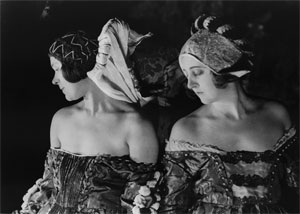 Here's the story on this print from the Swedish Film Institute. In the 1960's an interpositive was made from the original nitrate negative (now lost, presumably). In 2007 a new internegative was made therefrom, and into this were spliced digitally-created intertitles. The print we will see is thus third generation, which isn't so bad, all-analog save the intertitles, and on color stock--to incorporate simulations of the original tinting and toning scheme (I presume via the Desmet method) based on hand-written annotations on the original negative.

July 18

The Shakedown (noon)
"Restored to 35mm by George Eastman House" say the SFSFF program notes. But from what? From a 16mm print, says GEH, the only element they could find. The whole job was analog, even including the mocked-up replacement title card. Expect a little softness from the source material.

Man with a Movie Camera (2:30pm)
This is a print owned by the Alloy Orchestra, produced entirely photochemically from a negative at Gosfilmofund. Little more is known of its provenance, but it does reportedly have some printed-in dust and scratches.

The Woman Disputed (4:30pm)


"A girl of the streets... with the eyes of a saint."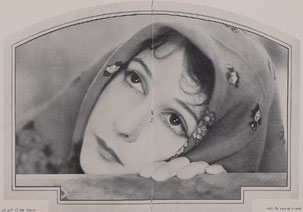 This print from Library of Congress is preserved from a nitrate print in the Raymond Rohauer collection. Rohauer was a great hero-villain of film preservation. On the one hand, he collected, preserved, and distributed many classics of early cinema that otherwise might have been lost. On the other, he was notorious for making alterations--rearranging and reëditing films, adding his own intertitles--in order to secure copyrights in his name. Hopefully this film escaped his revisionist predilections.

L'Heureuse mort (7:30pm)
This title was restored by the Cinémathèque française in 1986, entirely photochemically from a nitrate negative--the original negative if I'm correctly interpreting the French pdf I was forwarded--they've been holding since 1949.

July 19

Not part of this festival at all, but arguably a spiritual continuation of it, is Monday's showing of the silent version of Hitchcock's Blackmail at the Rafael (7:15pm) with accompaniment by the Alloy Orchestra. Though the Rafael claims this to be a restoration, that's not strictly speaking true. It's a "reasonably good, unrestored print" from BFI, who hope in the near future to do digital "restorations" of all 9 surviving Hitchcock silents. See it now before the damage is done!

Thanks are due to Anita Monga, Dennis James, Samantha Leroy, Mike Mashon, Jon Wengström, Nigel Algar, Ken Winokur, Andrea Meneghelli, and Ed Stratmann for their help in sussing out these details.