The Silent Watchdog: Summer 2013
Posted July 18, 2013 at 2:20pm by Carl Martin, edited August 3, 2013 at 11:33pm

---
The Watchdog was, well, silent before last month's Hitchcock cavalcade stormed the Castro as even the minority that was shown in 35mm (the same contingent as will screen from film during the PFA's approaching recapitulation) was simply a film-out from the BFI's digital restoration project.

This summer's main event gives the SF Silent Film Festival a chance to regain some of their analog-era cred. Most of the programs will screen on film, and the better part of these will be untouched by the digital scourge. But first let's get the exceptions out of the way.

The BFI's 2011 digital work on The First Born (co-written by Alma Mrs. Hitchcock Reville) might perhaps have been a dry-run for the Hitchcock 9 effort. A tinted but incomplete 35mm nitrate and Eastman House's abridged B&W dupe were both scanned and the latter used as a guide to sequencing extant scenes from the nitrate as well as to fill in some missing bits. Recreation of tinting was performed in the digital domain as well. Curiously, the only analog step of the workflow prior to final film-out was in the title cards, which were created digitally, put to film, then re-printed and re-scanned, in order to counterfeit a measure of filmic jitter.

The Danes of late have also gotten digital-happy, and the DFI restoration of The Golden Clown is a 2K scan-job with damaged sections rehabilitated via digital puttering. The final print is B&W with no recreation of tinting.

Also reassembled from 0s and 1s are Rob Byrne's projects The Half-Breed (B&W, from a French print, a fragmentary American one, and a 16mm abridgement) and The Last Edition (Desmet color, from a Dutch print with help from a surviving trailer).

Cockfight, anyone?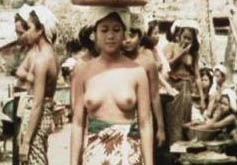 UCLA's print of Legong: Dance of the Virgins is a 1992 photochemical restoration sourced from three nitrate two-color Technicolor prints representing the American and British releases. Topless scenes, offensive to Yankee sensibilities, remained intact in the British version, while shots of poultry-on-poultry violence too gruesome for English eyes could be found in the American. Between the two versions, a complete reconstruction was achieved. (Rumors persist about a Canadian version being utilized but this appears not to be the case.)

While the film has no synch-sound, it did have a recorded score with conventional Western instrumentation on its initial release in 1935. Interestingly, the debut performance of correctively-scored (mostly) Balinese gamelan accompaniment to this restoration took place in 1999 at the Castro.

As with I Was Born, But... from the 2011 edition of SFSFF, Janus's print of Tokyo Chorus (東京の合唱) was struck in 2003 by Shochiko for Ozu's centennial. It is presumed that no digital work was done on it.

The print of Дом На Трубной (The House on Trubnaya Square) comes from our very own PFA, which acquired it in 1993 from Gosfilmofond. Beyond that, it's unknown what elements were used in striking it, but it is an acetate (on Ukrainian Svema stock), pre-digital era print without subtitles (subtitles will be projected digitally for the show).

The Patsy is a B&W wetgate preservation print struck just last year to replace a worn 35 year old copy produced shortly after Marion Davies deposited her personal nitrate print at the Library of Congress.

Don't crop out the outcropping!
In 1981 Berg-Ejvind och hans Hustru (The Outlaw and His Wife) was restored from two no longer extant nitrate prints (original elements having been lost to a 1941 archive fire) using only the image within the Academy frame, leaving out the soundtrack area to the left and cropping the top and bottom (all of which real estate was part of the image in films of the silent era). In 2010 this Victor Sjöström film was revisited by Svenska Filminstitutet and a full-frame restoration based on an incomplete Belgian tinted nitrate print and two safety prints (one of them full-frame) was made. We may infer that the other safety print was not full-frame and thus some sections of the restoration may still suffer cropping, but this is nonetheless a vast improvement, particularly as the work was all photochemical and the result, a Desmet-color print from B&W negative, reputedly handsome. In addition, more complete intertitles were recreated from the archive's title card collection.

Another film subjected to multiple restorations over the years is Gribiche, first in 1987 then again in 2008. The Cinémathèque française has long held a negative and two prints, one of them incomplete. The 1987 restoration, based on the negative, has since been determined to be the export version (in its own right a legitimate version), consisting of second-best shots and featuring slightly differing continuity from the domestic version. The two nitrate prints, though differing especially in regards to tinting, represent the superior domestic cut and are the basis of the newer photochemical restoration, which we will see in the festival. The complete nitrate print fortunately shows very little wear and is the primary source for image and intertitles, while the slightly older incomplete print has guided the Desmet-process tinting.

Restorers from Filmmuseum München have revisited Die freudlose Gasse (The Joyless Street) many times in order to sort out its tortured mess of versions. This very long multicharacter film was cut almost immediately upon its release in Germany, then censored again, and every subsequent foreign version trimmed different parts, often removing characters and plot threads entirely and inventing narrative elements (via intertitles and occasionally footage from other films) to make sense of the re-arranged remainder. Absent a reliable script (G. W. Pabst seems to have used it at best as a rough guide during filming) and original censorship record listing intertitles, there is no definitive way to reconstruct the surviving footage (still a half hour or so short of the original length).

A first effort was made by Enno Patalas in 1989, using prints from Cinémathèque française, BFI, and Gosfilmofond. A second attempt in 1996 by Jan-Christopher Horak and others cast a wider net and determined that a Library of Congress print was in fact a precursor to the BFI print. Additional ur-prints were found at Cineteca di Milano and Eastman House. Close examination of these materials allowed shots to be broken down as originating in either of two distinct negatives--the Milanese print being cobbled together from both. Indeed, the Patalas reconstruction was found to have used shots from both versions even within the same scene, resulting in mismatches and reducing the impact of the montage. For the new reconstruction the superior BFI print was the primary image source, and the French guided the Desmet-tinting. It was still necessary to utilize both negative versions to achieve a maximally complete reconstruction, but now consistency was maintained at least within scenes. Furthermore, the additional source prints allowed the introduction of shots not available to Patalas, and provided clues to more accurately sequence the material. This is the version shown at the PFA during the 1999 Pabst retrospective.

The latest version, created in 2009 by Stefan Drössler for the DVD release, updates the style and content of the intertitles and rearranges scenes slightly. I have been unable to determine if any newly found material appears in this version, or if it was accomplished digitally.

UPDATE: I've received confirmation that even this last incarnation of The Joyless Street was an analog restoration. For what it's worth, I found this version a bit easier to follow than the last, though holes in the narrative are still evident, and the tinting, if I can trust my memory, more restrained.

Thanks to Rob Byrne, Thomas Christensen, Bryony Dixon, Dennis Doros, Stefan Drössler, Sarah Finklea, Samantha Leroy, Mike Mashon, Jon Shibata, Jon Wengström, and Todd Wiener for responding to my nagging queries.