The Screen Scene: Late December
Posted December 16, 2013 at 3:34pm by Carl Martin, edited December 18, 2013 at 3:35am

---
In hope that Eddie Muller will maintain the film-centricity of his Noir City festival, seemingly the last of our many festivals to cling steadfastly to the notion that celluloid-bound emulsion is the proper vessel for our cinematic heritage, I eagerly await Wednesday's (December 18) unveiling at the Castro of next month's full schedule, largely because of the two films screening at the event.

The first, Blast of Silence, is not just one of my favorite noirs, but one of my favorite films full stop. Allen Baron blasted out of nowhere (well, he appeared in Errol Flynn's swan song Cuban Rebel Girls a couple years earlier) in 1961 to make his case as auteur as the writer, director, and lead (after his friend Peter Falk declined the role) of this late but essential, if underacknowledged, noir masterpiece. He then disappeared into cinema obscurity, directing only a few films, none of which I've seen, in the ensuing decades, and settling for TV work.

Update: I've just learned that Allen Baron will be at the Castro in person for this screening. I'm not one to be star-struck under normal circumstances, but I'm shocked and delighted at the prospect of Baron finally getting the respect and recognition that is his due.

A lonesome Christmas in New York, deep focus
Though taking up the noir rearguard, Baron marches through that door opened by the independent-minded likes of Samuel Fuller and John Cassavetes, at times hinting at their scrappy, freewheeling directorial style, but establishing his own unique, audience-grabbing voice by ingeniously simple means. Very seldom has a similar tone been attempted, though the influence of this film can be traced in Lars von Trier's Zentropa, whose railroad narrative and hypnotic voiceover are an expansion of motifs from Blast's incredible Oedipal opening sequence.

The co-feature, Christmas Eve, is unfamiliar to me, but its alternate title beckons enticingly: Sinner's Holiday.

Hallucinogenic detail: De Hirsch's Peyote Queen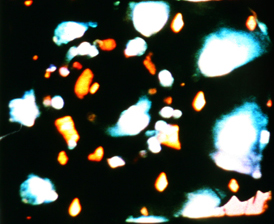 As always, must-see shows are cross-programmed with other must-see shows. If small-gauge is your bag, Canyon Cinema's Wednesday show, Exception to the Rule, features 16mm shorts from some heavy-hitters of the personal film movement (the term avant-garde is overused) who happen to be women, including the most excellent Marie Menken, Storm De Hirsch, Chick Strand, and Valie Export, whose feature-length feminist riff on Invasion of the Body Snatchers, Unsichtbare Gegner, I quite liked a few years back.

Friday (December 20) the Roxie is all about 35mm. The evening kicks off with a grindhouse double shot: Gone With the Pope, a film begun in the mid-70's and only just recently dug out of storage, rechristened, and completed (hopefully without today's sensibilities impinging too forcefully), and An American Hippie in Israel, as the 1972 Israeli film is called in English. These are followed by the Midnites for Maniacs presentation of Harmony Korine's Trash Humpers, which, being shot on messed-up video cassettes, might seem an odd inclusion here. But as the very ability of film to capture and fix for posterity the transitory hiccups of this other medium is on fine display here, I make no apologies. Nor do I apologize for the highly subversive content of the movie.

One film remains in this autumn's triple-venue Fassbinder onslaught: In a Year with 13 Moons Saturday (December 21) at ybca. While it's far from a personal favorite (and I haven't seen it since 1997) it notably puts its director's queer sensibilities front and center, as they often were in his later films, and features a notoriously extensive, bluntly metaphorical slaughterhouse scene. Could R. W. possibly have seen the previous year's Killer of Sheep?

At the Stanford, the year closes with the continuation of their screwball Preston Sturges/Marx Brothers pairings. Why not? A particular favorite is Hail the Conquering Hero (December 26-29), a folly-of-war picture in which Sturges's legendary comedic stamina--watch him "keep it up" through long, long takes--is in full flower. The Marx Bros. also touch down at the Castro December 30, but not before a visit with Quentin Tarantino (Dec. 27), whose Pulp Fiction remains one of the most watchable movies ever made, and Billy Wilder (Dec. 29)--on film will be The Fortune Cookie, which I've yet to see.

I don't pretend that the future looks rosy for 35mm, but while it still hangs on, we owe it to ourselves and humanity's last great century (what did 2001 bring us but 9/11 and the digital intermediate, and what did 2001 show us but that our reign is finite and the future transhuman and immaterial?) to view every film as if for the last time.