SFIFF 2014: The Whole Shebang
Posted May 13, 2014 at 9:55pm by Carl Martin

---
The plan: to see every film program in the SF International. Once again I failed, as the added show of Reversal of Fortune conflicted with my chosen screening of Shorts 5.

April 29 at the Castro: Thao and the Get Down Stay Down

Hollywood dreams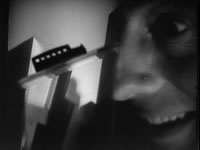 They did neither, occupying the stage and obstructing the bottom of the screen. Further, their lighting illuminated an even greater portion of the screen. Those who came for the band probably minded little, but it made for frustrating viewing for the cinephiles. The Life and Death of 9413, A Hollywood Extra, with its many silhouette effects the most visually accomplished short of the program, suffered worst. Of the remaining 35mm shorts, Chaplin's The Pawn Shop survived more or less with its gags intact, and the newsreel Torture Deluxe: What Broadway's Beauties Will Do To Stay That Way managed to deliver on its promise, if nothing more. Of the videos shown, the three newsreels and two Harry Smith shorts should of course have been shown on film, their native medium, while three original vanity-pieces featuring Thao Nguyen had sound (and very shallow depth of field), allowing the band (and audience ears) to take a break.

The evening's greatest sin was the band's election to play songs, presumably from their regular repertoire, rather than to develop an accompanying soundtrack. There again, those who came for the band were perhaps content to watch music videos rather than films.

April 30 at the Kabuki: Shorts 5: Experimental: Looking Glass

The evening's first two works point most directly to the program's (sub)subtitle. Su Friedrich's Queen Takes Pawn has the maker's voiceover intoning an excerpt from Alice's Adventures while a simple camera movement conveys the push through a mirror and a child's casual gesture is deftly framed as a poignant moment. Su's filmmaking career lasted from 1978 to 2002, and her last decade's output has been entirely on video. On the basis of this piece, it appears she still assembles her work along traditional lines, cutting shots together without the whizz-bang flourishes that often tempt videomakers. As in her previous work, the shots are heterogenous, some taken from home movies, some videoed hand-held to emphasize their subjective nature.

In Martha Colburn's Metamorfoza, the looking glass is a TV screen, through which her protagonist-doll clambers into a world of war-horror. The stop-motion has the same inertia-defying quality found in the Quay Brothers' shorts. While Colburn's early paint-and-puppet animations were shot and finished in 16mm, she soon took, for economic reasons, to assembling her work as digital files. In this latest work she has moved on to compositing digitally as well.

The only actual film to incorporate a looking-glass-like figuratively-penetrable object is Paul Clipson's closer, the Super-8 Bright Mirror. The object in question seems not to be a mirror, but a window, before which the film's protagonist paces harriedly in short bursts of in-camera superimpositions. The film's non-synchronized soundtrack, a near-endless, frenzied, deafeningly, ecstatically loud crescendo, suggests a level of terror I don't usually associate with Clipson's films. If it's escape through the window that the girl seeks, she does end up on a seashore, however the ensuing pas de deux with her shadow in the surf seems equally fraught with terror.

Running with a shadow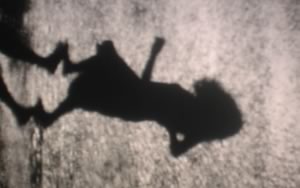 Another film illustrating the power of sound to channel (as opposed to impede) ones receptivity to imagery is Bruce Baillie's rediscovered Little Girl, which for the bulk of its running time lets Erik Satie's Gymnopédies set a contemplative mood, before closing with a jauntier melody. The film is a triptych in time, the first section panning over hillsides, somewhat reminiscent of Baillie's All My Life, before exploding in superimpositions and dissolves of plum blossoms, the second featuring a girl of ten or so on a stoop, unguardedly watching traffic go by, one guesses. Finally, waterbugs are observed along with the puddle-deep shadows thrown by the water distorted at their feet. The result is highly satisfactory.
Charlotte Pryce, with her hand-processed A Study in Natural Magic, joins her spirit-sister Kerry Laitala in proposing a mystical reading of the photochemical processes by which film imagery is spawned. Is this a more feminine, less demonic answer to Kenneth Anger? I prefer her film Curious Light, seen two years ago in the festival, which with its Alice references would have slotted nicely into this program.
I'm less enamored than many friends with Lawrence Jordan's most prolific mode of work: whimsical cut-out animations. His 16mm Entr'Acte is much like all the rest: objects and inscrutable characters appear, flit about at a constant implicit depth (if indeed the whole film-world is not strictly 2-D), and disappear against old-timey backdrops. On the plus side, it's short.
Lewis Klahr's video entry, Sixty Six, Episode 1: ICHOR, hews closely to Jordan's style. Collaged figures on static backgrounds are favored over the rapid pans and cuts on otherwise unaltered "found" material that characterize his Two Hours to Zero, which I believe to be his last 16mm film. Differentiators: Jordan's speechless world of wonders is an engraved Victorian pastiche, while Klahr's crime blotter is pulpy comic-book phantasmagoria.
I consider Dad's Stick a more honest video piece. Its maker, John Smith, comes from a materialist tradition and his film and video works respond to the qualities of their respective media. Here language--a deceptively matter-of-fact voiceover--joins extreme close-ups and flat color fields to mislead us while ostensibly informing us. The crux of this playful yet melancholia-tinged work is an ambiguous use of the word painting: it can be an art, and it can be a craft.
In Jim Jennings's Lost and Found, shot a quarter century ago on a New York ferry, many figures are seen, all of them anonymous. Some are shrouded in shadows, some are but shadows themselves. Rescued from the obscurity of time, they remain obscurely embedded in 16mm black and white.
I found Basma Alsharif's multi-lingual video Farther than the eye can see to be over-brimming with content but underwhelming in effect. Of Janis Crystal Lipzin's De Luce 2: Architectura, I'll just remark that it was clearly shot on film and should have stayed there.
May 6 at the Castro: The Unknown
Back at the Castro four years after his winning accompaniment to Twenty Thousand Leagues Under the Sea, Stephin Merritt brought along a ukelele and an accordianist this time. The bulk of the latter's activity was reserved for the opening short, Guy Maddin's Sissy Boy Slap Party (whose rapid cutting overwhelmed whatever digital device was playing it). Also Merritt got his vocal exercises out of the way here, so we could appreciate the feature in its mute glory. As concerns Tod Browning's work, the less said the better, and certainly Lon Chaney, possessor, even un-armed, of one of cinema's most expressive bodies, needs no additional help. But Merritt understood this, and his strumming and picking respected every mood and nuance. And though he sat on stage, he was well off to the side and used only the sparest light, to interfere minimally with the film. Well done, Stephin!
Don't put words in my mouth!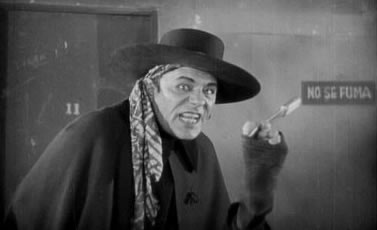 The Eastman House print derives from a print discovered at the Cinemathéque Française and therefore has no original title cards, but the image quality is fine enough to discern the various textures of the film. Certain shots have a sort of burlap-sack overlay on them, perhaps an attempt at enhancing a romantic mood.

Will this be my last dispatch from our country's most historied film festival? This year saw an uptick in film-shorts in the experimental program, so hope remains, outside the mainstream, that next year's edition will draw me to at least one program.