The Silent Watchdog: Spring 2014
Posted May 27, 2014 at 2:52am by Carl Martin, edited May 30, 2014 at 1:35am

---
The Watchdog, having hibernated through the Winter's nearly all-digital Chaplin centenary event, is roused again by the welcome smell of acetate and polyester 35mm prints in this year's SF Silent Film Festival Spring edition (moved up from its usual Summer slot) at the Castro Theatre. Further sniffing reveals which prints embody the true spirit of film.

Thursday, May 29

Rudolph Valentino & Alice Terry [edit: NOT Ms. Terry!]: the tango scene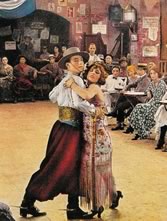 7pm: For starters, the opening night presentation of The Four Horsemen of the Apocalypse screens from a restoration print from the ever-reliable team of Kevin Brownlow and Patrick Stanbury of Photoplay Productions. Prior to their work in the 1990's, prints were derived from an incomplete dupe negative from MGM "of a remarkably high standard". Brownlow and Stanbury had seen original nitrate prints held by the National Film Archive, the precursor to the BFI, from which all missing scenes could be culled, as confirmed by the film's surviving cutting continuity--a contemporary textual document serving as a blueprint for the picture's assembly. The cutting continuity also guided the tinting of the restoration, which, unlike Photoplay's traditional dye-bath tinted flagship restoration of Napoleon, was simulated on color stock via the Desmet method.

Friday, May 30

3pm: Rare though it is, dye-bath tinting can still be accomplished at the Stanford Theatre Film Laboratory, whose work may be appreciated in the next day's print of Midnight Madness. This print, a UCLA preservation copy of a sole existing nitrate print (part of that horde of American films found at New Zealand Film Archive in 2009), was broken down, scenes grouped by intended tint, then assembled into tinting rolls. Once dye tests produced a good match to, say, the lavender tint found in the nitrate print, the entire roll of lavender-destined shots from the preservation print was run through the dye--in this case upholstery dyes subbing for the doubtless caustic dyes of the past. This process repeated for every desired color, the tinted rolls were then returned to narrative order.

The Parson's Widow: domestic bliss
5pm: Some may have seen Dreyer's Prästänkan (The Parson's Widow) a few years ago at the PFA. Whereas that lovely print hailed from the Swedish Film Institute, this time around we'll be viewing a print from Film Preservation Associates, a comparatively local outfit. David Shepard supposes the two prints to be identical aside from the language of the (often verbose) intertitles. His, he says, is a beautiful vintage print, for the most part step-printed from the original camera negative, with a few shots having been replaced with dupes from an old print.

7:30pm: A single ur-element, a Czechoslovakian exhibition print, of Ramona survived into the restoration age, and in its journey it had been confiscated by the Third Reich and the Soviet Union before being "repatriated" to the Czech Republic. There it seems to have been copied onto safety stock before disappearing. The Library of Congress deemed the print to be in fine shape, though a lot of (analog) timing work was necessary to tease out a consistent image, likely due to tinting in the nitrate copy causing density issues in the Czech dupe. The original intertitles, however, are lost, so what we see will be a reconstruction based on a partial cutting continuity, a translation of the Czech titles, and the underlying novel. Absent any definitive guide to tinting, the new print has been left black and white.

Saturday, May 30

10am: Saturday is given over to the digital, the one 35mm print being a Film Preservation Society 2k digital restoration of The Good Bad Man. While no prints exist from the 1916 release, a 1923 re-release print with changed character names and rewritten titles was acquired and copied by Henri Langlois at the Cinémathèque française and is the basis of this restoration. While the philosophy of the restoration is that it should represent what audiences saw in '23, removing only damage accrued since then while retaining the organic characteristics of the film, the introduction of digital interpolations does necessarily interfere with film's indexicality. So why bother with a 35mm print at all? Aside from preservation issues, digital versions can only be shown at 24fps, meaning that this 18fps film would have to be shown with duplicated frames to slow down the action, which introduces a jerkiness intolerable to sensitive viewers. Those worried about visible flicker induced by the low frame rate will find that the 3-bladed shutters that will replace the normal 2-bladed ones on the Castro's projectors for this show (and some others in the festival) will increase the flicker rate to an imperceptible 54Hz, the only concern being possible reduced brightness.

Sunday, June 1

Kinuyo Tanaka: Dragnet Girl
Noon: I presume Janus's print of Dragnet Girl (非常線の女) to date from Shochiku's 2003 Ozu centennial tour. My notes from a PFA screening of the print indicate no issues other than a possible re-alignment of the film's reels, which aside from the introduction of extra cue marks is not a material change.

2:30pm: In the 1970's a surviving English nitrate print of Flickan i frack (The Girl in Tails) was found and duped to a new Academy-ratio black and white negative, thus losing image at the left (soundtrack area), top, and bottom of the frame. Later, in 2008, Swedish intertitles reconstructed from censor records were spliced into this negative at the Swedish Film Institute, and a new Desmet print was struck on color stock, with tints based on the English print, now too deteriorated to re-duplicate at full aperture.

5pm: The Sign of Four is a photochemical preservation print on black and white stock from BFI with its original intertitles intact.

7pm: The recent restoration of Jenseits der Straße (Harbor Drift) consisted merely of the reunification of the rediscovered reel 2 with the rest of the film. The image quality is reportedly exquisite. A future restoration may add tinting and toning, but for now the film exists in glorious black and white.

Thanks to Kevin Brownlow, Rob Byrne, Bryony Dixon, Anita Monga, David Shepard, Rob Stone, Todd Wiener, and George Willeman for humoring me with responses to my inquiries.