Dystopia, Heavy Petting & Mimes: An Almost Random Sampling of the Oddball Archive


in the series Oddball Ephemera
Flyer

It's impossible to exhaustively assay the prodigious 16mm film collection housed at Oddball Archives--one can but attempt to hint at its diversity. We have, quite arbitrarily, turned our attention to shelf 4P, a glistening vein in this cinematic silver mine, and offer a selection of feel-good films, feel-bad films, delightful animation, educationals, industrials, porn, and more.
Doubletalk

(1972) by Allen Beattie 10 min. Color 16mm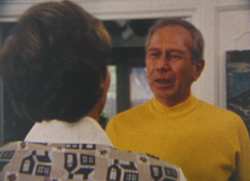 All he wants is to pick up his date, but first our hero has to meet her parents. As Mr. and Mrs. Peterson size him up, and he them, the magic of cinema puts their thoughts on the soundtrack for us all to hear. Comedy gold, in a beautiful print with perfect color!
Too Many People

7 min. Color 16mm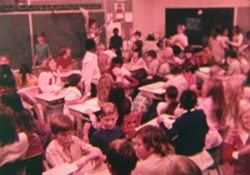 Budding breeders of grade school age demonstrate the chilling effects of the projected population boom. Made in an era when 6th graders weren't reproducing in significant numbers, it's hard to fathom any cogent message in this Malthusian polemic other than "enjoy those hot dogs now".
Red Ball Express

(1976) by Steve Segal 3 min. Color 16mm
An explosive 3-minute fantasy of trains, tracks, and tunnels, all drawn directly onto film. With a bluegrass score as dynamic as the images, Red Ball Express is sure to delight all lovers of the color red.
Aqua Frolics

(1940's) 8.5 min. BW 16mm
A Castle Films compilation of water sports, just in time for the holidays. Witness an underwater turkey dinner, as well as basketball and outdoor water ballet.
The Lunch

(1950's) 3 min. BW 16mm Silent
In this "amateur" film, a young couple has found a secluded spot in which to picnic. Oh no, they forgot their basket! Perhaps in an attempt at censorship, or to render it unviewable, magic marker scribblings pervade the film, adding accidental avant-garde overtones.
This Is Britain: Auto Suggestion

(1952) by Cyril Frankel 11 min. BW 16mm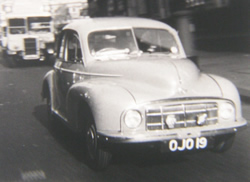 One of the last films from the legendary Crown Film Unit paints an optimistic portrait of Britain's soon-to-be moribund motor industry. In 1952, Vauxhalls, Triumphs, and Morris Minors were symbols of national pride and middle-class prosperity, and we see them being built, tested, and driven in this jaunty romp. A car fetishist's delight!